Watch the sunrise & sunset with us
And everything in between, from our airy open deck with a 360 degree uninterrupted panoramic south pacific ocean view of kings beach, bribie island, pumicestone passage + tide changes + native bird life + water sports + beach goers & more we are located in a small fishing + tourism town on the south east coast of australia.
See you there!
Serving Your Favourite Genovesè Italian Coffee Daily From 5:00am
Chill Cafe 89 offers a relaxed, family-friendly, rustic setting with a sea breeze. The Restaurant deck seats up to 80 people, including indoor and outdoor dining options as well as the capacity for weddings and events
$2.00 COFFIN BAY OYSTERS 2PM - 5PM ALL WEEKEND + LOTS MORE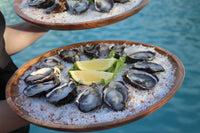 CHILL has been operating for over 7 years by Father & Son 'David and Ashley Deambrogio, established in 2015 and since then has built a reputation as one of Caloundra's favourite places as well as the locals go-to. We are a locally family owned & run Cafe, Restaurant, Bar. As a quality driven business our priorities are sourcing & hand picking the best produce possible via local vendors fruit/veg, butchery, seafood outlets & more. Serving genovese Italian coffee daily. Everything on our menu is prepared & made fresh in-house. We offer a simple yet contemporary dining experience accompanied by wholesome home-style dishes packed with flavour, fresh ingredients & made with love. CHILL brings classic waterfront dining to the Sunshine Coast with absolute beachfront accompanied by views of kings beach & directly situated across from the famous bribie Island "break" leading to the ocean & the pumicestone passage adding even more fun to the view. Enjoy scenes of wildlife, beach goers, wind surfers, water sports & many vast natural tide changes.
WEDDINGS & EVENTS
We have a Team of Event Managers who will go above & beyond to bring your vision to life for your next event. With a variety of affordable menu's, service styles, layouts and food / beverage packages to choose from plus the perfect location! 

💌 chillcafe89@gmail.com
TripAdvisor Testimonials
All I can say is that the experience at the Chill Cafe 89 was a culinary delight in a relaxing atmosphere with beautiful views. The combination of foods most definitely created a delight to my palate.

Kehli
Thought we would take the extended family down for breakfast- found this little treasure on the waterfront.
Very busy but they sat six of us straight up - and I noticed that they always accommodated groups quickly with furniture moves. A lot of places won't do this.
Food was good and quick service.

Chris M
Upon enquiring they were happy to make us practically anything vegan we wanted. We settled on the pizza and OMG ... DELICIOUS. Great coffee, great service, friendly staff and a FANTASTIC location. This is the the first place in Caloundra to offer consistently great coffee in 10 years.

Sarah
We celebrated a 80th Birthday today at this great little cafe. We could not fault the service or the food. They even sang happy birthday as they brought out the cake for us. Perfect spot with a lovely view and great menu, certainly will recommend it and we will be back when we are up that way again. It's even pet friendly too.

Stephen E